Spring is in full bloom! With longer lighter evenings and flowers everywhere, it's beautiful! It's the perfect time for a new perfume…..here are the All Thing Stylish Spring Scents.…..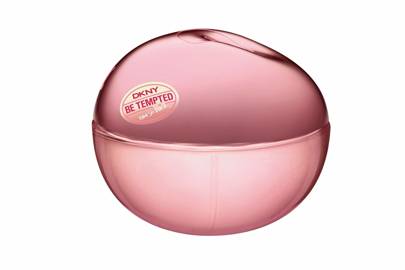 DKNY Be Tempted Eau Blush
With peony and apricot and a gorgeous bottle – this is fresh, soft and feminine and ideal for a light lovely scent that sort of whispers…..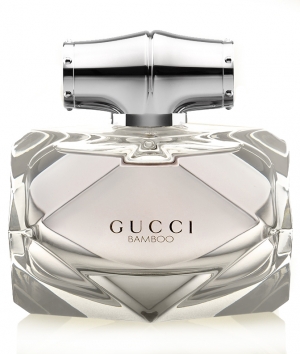 Gucci Bamboo
Stunning, soft, creamy florals with a light freshness. Perfect everyday perfume that's also really elegant. Fabulous bottle too.
Chanel Chance Eau Fraiche
Chance Eau Fraiche is a stunning Spring scent that takes you through to Summer. Classic Chanel chic in a simple beautiful bottle, this lighter version of the perfume is a 'floral sparkling' combining citrus, jasmine and teak wood. Energising and sophisticated. Love!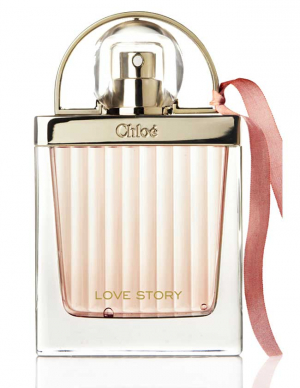 Chloe – Love Story
This is my favourite of the Chloe perfumes. Classic Rose with the addition of sweet orange blossom – a new romantic classic.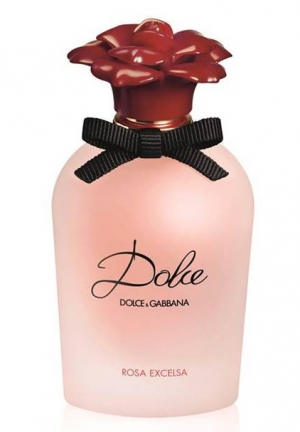 Dolce & Gabbana – Dolce Rosa Excelsa
This captures roses in bloom. With zesty top notes of neroli leaves with a floral heart with of Turkish rose absolute – and a very pretty bottle.
Stunning looks on the red carpet for the Bafta Awards. From shimmering brilliance to delicate chiffon  – with some moody bloom magic – here are the All Things Stylish fashion favourites……
Emma Stone in Chanel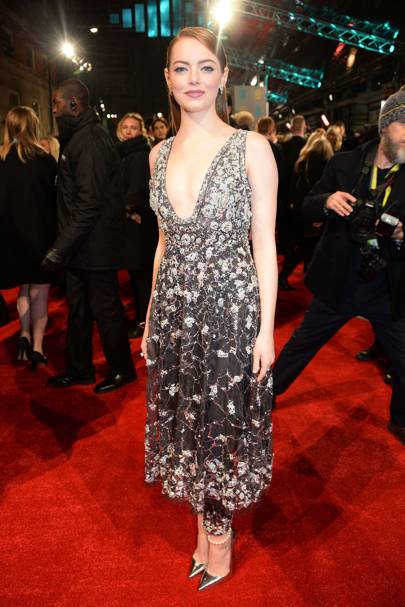 Stunning shimmering chic from the Chanel Spring couture runway. Plunging neckline, under trouser detail and metallic pointed heels complete with pearl anklet –  just LOVE this look!
Naomi Harris in Gucci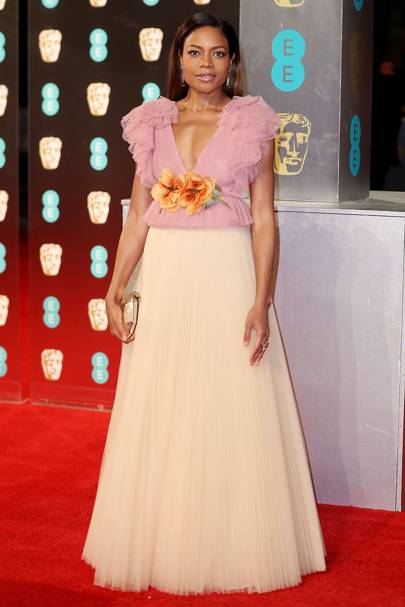 Delicate Spring Gucci from Naomi Harris. I love this soft pastel perfection with added prom queen corsage detail. The touch of orange lifts the look so well. Beautifully ruffled shoulders balance the gown – red carpet winner!
Emily Blunt in Alexander McQueen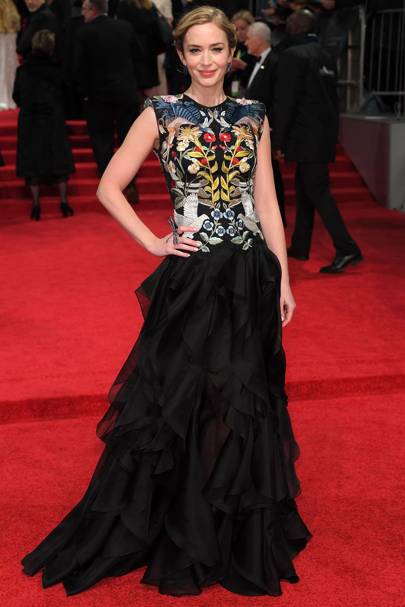 Embroidered brilliance  with fitted regal high cut and glamorous edgy ruffles. Perfect updo shows off the shoulders and the symmetrical Spring like moody blooms in the perfect shape. Gorgeous.
Nicole Kidman in Giorgio Armani Prive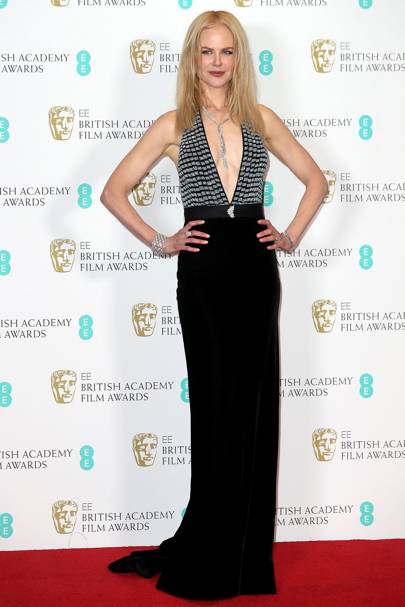 Nicole's long sweeping gown  is set off beautifully with incredible Harry Winston diamonds. The crystal plunging bodice has a warrior feel to it. Love the nude lip and pale blonde hair with centre part – very 90's. Fierce, fearless, fabulous…..
Penelope Cruz in Atelier Versace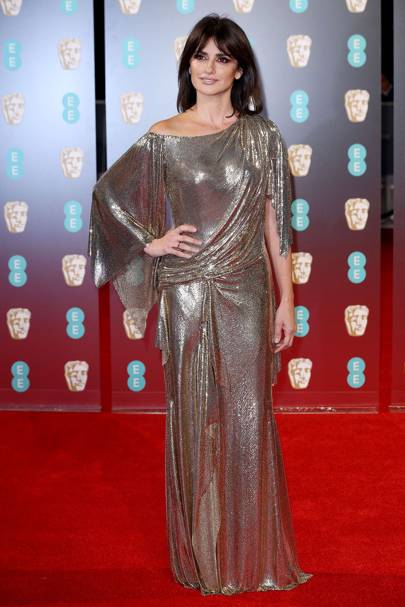 This is stunning 70's chic to the max! Shimmering lamé on the red carpet – Penelope looked every inch the superstar with a gown that caught the light as she moved – beautiful.
Sam and Aaron Taylor Johnson both in Tom Ford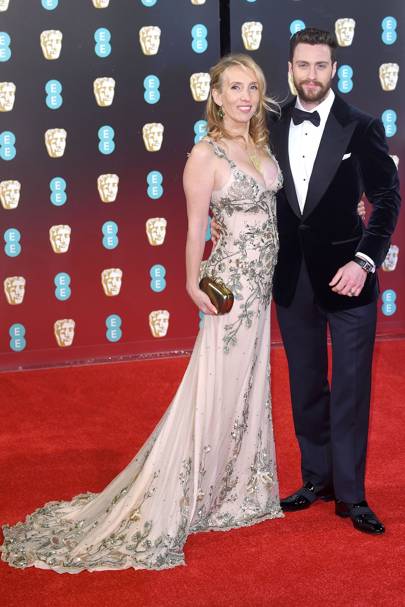 Couple Goals! Loving this combo of super stylish talent in Tom Ford! Sam's delicate Spring inspired floral nude gown is such a gorgeous shape with amazing embellished detail and Aaron looks suave and confident – loving the chic velvet jacket….
Michelle Williams in Louis Vuitton
Love this cool little number. Sparkling art chic, unusual long sleeves and 90's style strappy heels that toughen up the cocktail feel. Keeping the make up minimal with a sleek pixie crop- Michelle stood out – stunning!
Gorgeous! 
Chanel showed us how to do backpacks for 2014 and they are now officially the hottest bag of the season
Following in the footsteps of that other brilliant utility accessory – the bumbag – the backpack allows us to carry our eye make up and our ipad! Mini or fullsize, edgy, glam or beautifully simple, they are set to become the new classic…….
Celebs love them….
 Khloe Kardashian in Chanel
Jessica Alba wears Simone Camille
Paloma Faith and Rihanna love their MCM backpacks
Katy Perry in Chanel
Ali Larter, Miley Cyrus and Kate Bosworth rock the trend.
Roomy, practical and chic – what more could we want?
 Get the Look
Love the cute edgy vibe. Accessorize – £34
Hear me Roar! Bold with a classsic finish. Tory Birch Kerrington Backpack – £246.49 – Shopbop
Perfect for Spring. Team with red lips and a Burberry raincoat. H & M – £15
Works for day and night. Such a 90's feel!
Marc Jacobs Preppy Nylon Backpack – £157
Gorgeous Spring shade. Grafea Mint Kiss Backpack – £180
Foldable and available in every colour! We love the nude for wear everywhere ease.
Longchamp Le Pilage Backpack – £69
Sexy, edgy cool. Bebe Bethany Studded Backpack – £36
Very Ri Ri! Rich Fontagram Backpack by Joyrich – £66
Everything from the colours to the print make this a perfect Spring to Summer choice, love it! Call it Spring – Buckbee Backpack – JC Penney – £31.89
 Which one will you be wearing?
Think PINK! For  perfect nails for Spring/Summer 2014 – it's all about pale, pretty, soft delicate pink.  Instantly elegant, eternally groomed, this is grown up girlie – and just gorgeous.
Chanel's Frisson is the ultimate pink – just perfect!
It's Valentine's Day this week and there is romance in the air and on our minds! In celebration of all things LOVE –  we look at the most gorgeous ways – to beautify your day……..
Bathtime Bliss – Red Roses
Red Roses Bath Oil – Jo Malone  – £38
Like bathing with rose petals! This special bath oil uses 7 different types of roses and leaves your skin incredibly soft. Pour into your tub as you get ready for a romantic evening. The aroma is out of this world……
Red Hot Romance – The Ultimate Lips & Nails
Red lips are all about romance! Match your nails for polished Hollywood glam
Mac's Russian Red is a stunning shade of red…. 
Lipstick – £15, Nail Polish – £11 and Lip Glass – £14  http://www.maccosmetics.com/
 Seductive Scent  
Choose one of these sublime perfumes to really wow……
Angel – Thierry Mugler – £55
Incredible,  oriental gourmand that is unlike anything else. Stunning bottle that looks amazing on your dressing table.
An unrivalled classic – my absolute favourite.
Allure Sensuelle – Chanel
You want sexy, seductive and classy. That's Chanel Allure Sensuelle
A soft floral oriental with notes of vanilla and amber – gorgeous!
Estee Lauder Private Collection – Tuberose and Gardenia
This is really special. Elegant, feminine and perfect as we approach Spring. Exotic, creamy and soft with fresh notes.
 Have a beautiful Valentine's Day…….
Release your inner glamour goddess! It's August – and the most popular time to go on holiday – so here at All Things Stylish – we tested the BEST products to have in your beach bag to help you feel gorgeous, look amazing and stay protected in the sun…..
The results are in! From the perfect tan extending moisturiser to the dreamiest shimmer nude nail colour, we round up the best of the best…enjoy!
L to R
Hawaiian Tropic Island Berry SPF25  (£7.49 – Boots) Gorgeous moisturising gloss that protects and sparkles in the sunshine. Great colour for day or night. Tastes delicious!
Bobbi Brown – The Shimmer Brick in Bronze – (£35 – Harrods)  Iconic Bronze highlighter from the Queen of natural enchancing make up. Bobbi Brown's products are amazing and if you haven't yet tried the Shimmer Brick – it's a serious style staple. Run your finger along each individual shade and highlight cheekbones, eyes, forehead, anywhere the sun would hit. Sweep your powder brush along all for a blended shimmer.  You wont need a separate eyeshadow this Summer, just pick a shade and blend over lids.
Nuxe Huile Prodigieuse Multi Useage Dry Oil – (£28 – M & S ) Amazing product! With unique concentration of 6 precious oils, this nourishes and soothes your skin and hair –  leaving them incredibly smooth with gorgeous scent. Hair shines and feels light and silky. So many uses, can also be added to foundation for inner glow,  the bath for a relaxing experience, post waxing to soothe areas, spritzed directly onto skin for night out shimmer, added to conditioner to create a hair mask, rubbed onto cuticles and as hair serum. Wow! This product is so infused with natural goodness you will actually feel better using it. Perfect for soothing holiday skin and hair and when you want to highlight your tan.
Toni & Guy Casual Sea Salt Texturising Spray  (£7.19 – Boots) Cool aqua packaging and sleek bottle with GREAT results. Spray onto wet hair and leave to dry in the sun for perfect beach tousled waves. Smells good too.
Estee Lauder Bronze Goddess Bronzing Powder –  (£24) VERY blendable and natural looking. Stunning colour. Gives you year round glam glow  – in 4 different shades to suit your tan. Lasts and lasts, perfect matte texture for a carefree Summer feel.
Clarins Sunscreen Lotion Oil Free SPF 15 – Progressive Tanning – (£22) I love Clarins sunlotions. They feel fantastic on the skin and smell gorgeous. This brilliant spray does it all.  Light,  effective and small enough to fit in your beach bag. A quick spray and you are out the door and its perfect for poolside spritzing on the go, refreshing in the heat too.
Bobbi Brown Nail Polish – Nude Beach Collection (£12 ) The perfect nude nail shade. Don't worry about chipping your manicure in the sun, a shimmer shade blends in well with your natural nails so any imperfections are less noticeable. It looks glam yet relaxed – exactly how you want to feel on holiday!
Estee Lauder Bronze Goddess Eau Fraiche Skinscent – (£45  Wow! I  adore this.  One spray and you are transported to a gorgeous beach, with the heavenly scent of coconut, sea salt and faint hint of peach blossom in the air. It's out of this world and limited edition! Bronze Goddess fans will know Estee Lauder slightly change the scent formula and bottles each Summer – the same coconut base but each year something new to accent the aroma beautifully.  I love 2013's gold bottle and they seem to have the scent combination just right. Its my go-to fragrance this year and I may need to stock up now to keep that Summer feeling going…..
Hawaiian Tropic Shimmer Effect Aftersun – Coconut Papaya (£12.99) Gorgeous after sun that gives you a bit of a glow along with a divine fragrance. Perfect to layer with the Bronze Goddess perfume. With natural aloe – it feels wonderfully cool on your skin and leaves you ready for a night out!
Chanel Les Beiges Face Powder   (£38 – Debenhams) I have talked about this wonder product before but its so good its back on this must have list. Light, fresh powder that gives you a healthy glow while reducing shine, what more could you want? Er – it also contains antioxidants, an SPF and botanicals- cotton flower and white rose – wow!
Lancôme Définicils Waterproof High Definition Mascara (£22 – House of Fraser) The famous lengthening, separating and lash defining power-is now waterproof – brilliant! If you need your mascara to last through the day til cocktail time,  without flaking and still looking fresh and natural,  then this is the one for you!
Lancaster Tan Maximiser Soothing Moisuriser  – (£22 – Selfridges) Extend your tan by up to 80% – naturally! No fake tan, just an incredible complex that helps increase melanin production in your skin – and really works! I discovered this lightweight yet intensely moisturising lotion about ten years ago and I use religiously after tanning for seriously soothing tan intensifying!  I always end up looking browner for longer with this and your skin just feels good too.
Have FUN in the sun!
The coolest nail colour out there right now is all WHITE!
Celebs are flocking to the icy cool shade and its even made the front cover of Vanity Fair!
Cara D, Kerry Washington, JLO and Scarlett go WHITE!
I love this look! It brings out your tan and looks super expensive
Get the look…………
Chanel's Eastern Light
OPI My Boyfriend Scales Walls
or Nars Ecume
So Cool!
It's HOT HOT HOT! On gorgeous  glorious sun filled days like these –  the best place to be is in the water! But for the city chicks who are busy being fabulous in town and can't just dive in,  how do you keep your cool? Make up melting,  hot sticky and humid, take up residence next to the nearest fan and check out our top tips for chilling out……You may not be able to immerse yourself in the pool while you check your emails but you can Beat the Heat – The All Things Stylish Way………..
1. Fan Time! Buy a hand fan –  or buy 10. They are inexpensive, pretty, feminine and can accessorise your outfit. They really work!!! Your friends will all want one. You can buy them so cheaply in Chinatown and you will wonder how you lived without them. I also pick them up in Spain whenever I'm there but Chinatown has an abundance and they are beautifully designed. They have plain ones too for the guys in our life although when its this hot, they don't care! Paper, wood, silk, cloth – all work and are perfect to keep you cool on the tube, in a taxi and in a bar…..
2.  Heat proof your make up!  Choose a long lasting transfer proof foundation and keep it in the fridge. YSL Teint Resist  – £29.50  –  is brilliant and has great coverage.   It will feel cool going on, last and last.
Buy waterproof eye shadow and liner – MAC has the best and they are made for swimming – so London heat won't defeat it. Powerpoint Pencils £14 and Paintpot in Chilled on Ice –  a cool Shimmer Gold – £15 –  always looks good.
Sticky gloss in the heat is not a good look. Clean up with a cool lip stain that gives you a whisper of colour – Benefit's Benetint is still the best – £22.  Chanel Powder Papers – £22 are ideal for on the go chic blotting.
3. Cool the skin! Apply a cooling body lotion throughout the day, whenever you feel like you are at boiling point.  Aloe Vera kept in the fridge is ideal for sunburn – as its instantly cools and calms – so our overheated city skin can benefit from the same treatment. It will feel wonderful in the baking heat.
Aloe Vera Gel – £4.66 – Hawthorne Health

4. Spray Away!  Invest in one of the ice skin sprays.I discovered them in a hot studio where the tv hosts were surviving with spritzes in between takes. It works!  
Perlier Lemon Sorbet Refreshing Ice Granita – feels and smells amazing, actually 'crackling' on your skin and instantly cooling you down. Buy at the Home Shopping Network – www.hsn.com. or head to Boots NOW  for their brilliant Hot Weather Cooling Spray and keep it in the fridge.
5. Wear Cotton! Its a natural fibre that's breathable and a whole lot cooler than man made fabrics. Feels great on the skin too.
6. Pop it!  Ice lollies are ideal for cooling you down when the temperatures soars. Buy a box of ice pops and stick them in the freezer at work and home. I had about 4 this afternoon and felt instantly cooler.
7. Dip it! Cooling your hands, feet, temples, wrists and neck – makes a massive instant difference. Pop to the bathroom and run a cold sink and dip them in!
8. Ice up! Buy a eye cooler mask and stick in the freezer. Place on face during breaks at work. Everyone is in the same boat – they will all want to borrow! Relaxing Gel Mask from Out of the Blue – on Amazon – £2.38 – bargain! Also eases headaches and helps puffy eyes – fantastic!
9. Take a trip….to the ice bar! Where else in London is icy cool at this time of year? Suggest meetings  take place at The Ice Bar…
– http://www.belowzerolondon.com/ £14- £16 per person which includes a free iced vodka. After work drinks anyone?
Other top tips……Buy an Electric Fan and keep it by the bed at home. I turn mine on as soon as I get in and close the curtains. Splash cold water on your face and lie next to the fan, it makes a big difference. Keep a flannel in the freezer and fridge and apply to pressure points. Sleep in cotton sheets……
All Things Stylish – dedicated to keeping you cool! 
How beautiful are these new Chanel shades for Summer?
The inspiration is sunlight and butterflies – wow, just LOVE the colours – electric brights that tie into the neon feel but are so instantly wearable, bringing out your tan and making you look incredible.
L'ÉTÉ PAPILLON DE CHANEL
 Can you say face flattering perfection? Race you to the Chanel counter!
Gatsby chic is almost here……."There was music from my neighbor's house through those summer nights," F. Scott Fitzgerald wrote. "In his enchanted gardens, men and girls came and went like moths, among the whispering and the champagne and the stars."
Baz Lurhman's movie The Great Gatsby is on general release in the States right now –  coming to the UK next week on 16th May.
The fashion influence has been a long time coming – the first hints of flapper chic were visible on the runway during New York Fashion Week in 2011 and the fashion world has been paying homage to the roaring 20's ever since. It was such an  opulent time, the cocktails, the beading, the sequins, the glamour  – so enjoy it all!  20's fashion has even influenced the current major metallic trend!
The Great Gatsby costume designer Catherine Martin has created some incredible outfits for the movie. There has also been a Tiffany collaboration – wow! We are all waiting in anticipation!
But until the release we can all recreate our own speakeasy glam with these gorgeous items……….
Gatsby Chic…….Rock one of these stunning frocks to your next party with all the beading, delicate lace and shimmer –  and feel amazing. This incredible nude flapper dress from Jigsaw (£325) is a major investment piece, beautifully made and just oozes glamour! Topshop have the ultimate little black flapper dress (£160) These are party pieces that will work well now and all the way through until Christmas.
Pale creamy skin is Gatsby style – and there's no better foundation for this than Chanel Perfection Lumiere, light reflecting amazingness, long lasting with an SPF (£36 – Harrods)
Add the perfect pink blush from Dainty Doll – especially made for pale skin by none other than major UK fashionista and member of Girls Aloud Nicola Robertson.
This look needs a dark red  lip and NARS Fire Down Below is a great shade. The semi matte formula is ideal for the 20's look and is set to be huge this year. Semi Matte a la 90's – is where's it at.
Statement jewelery is a must and this stunning vintage necklace from Max & Chloe (£77) is perfect. Emerald colored rhinestones are interlocked with multi stranded ball link chains accented with vintage filagree beads.
This flapper cuff from Amrita Singh (£52) is an easy way to add a little 1920's chic – gold plated with enamel detailing and austrian crystals – beautiful.
Choose a pretty sequinned headband – this Daytrip glitter band has the right feel – just £6.79 at Buckle – www.buckle.com
Finally complete the look with a delicately beaded handbag for authentic 20's feel – The Kardashian Kollection has this gorgeous number – £30 at Dorothy Perkins.
Grab a cocktail and get your Gatsby on!
Be gorgeous!