Stunning style red carpet for the Oscars 2017! Here are the All Things Stylish favourite looks…..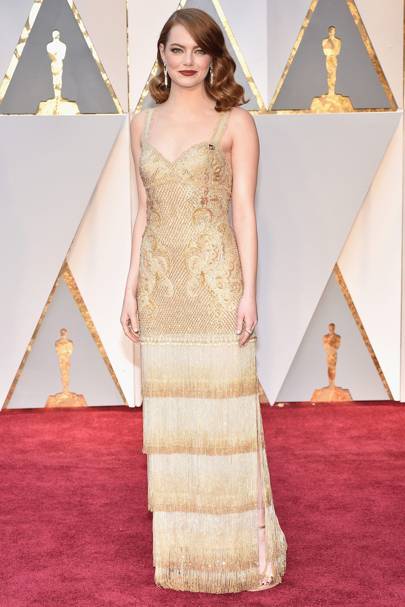 Emma Stone dazzled in custom-made Givenchy Haute Couture by Riccardo Tisci and Tiffany & Co jewellery. Shimmering 20's flapper chic, this beautiful vintage feel dress was just perfection. Combining elegance, class and just the right amount of attitude – My absolute gown of the night!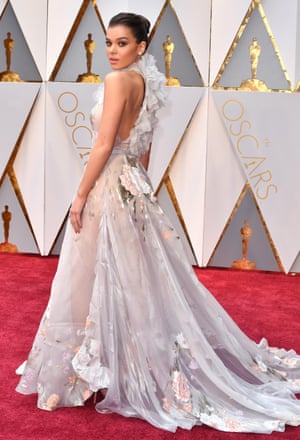 Ethereal Spring Chic! Hailee Stenfield glowed in this beautiful Ralph & Russo dress. Delicate butterfly ruffles with perfect sleek updo – this was whismical floaty Princess Perfection!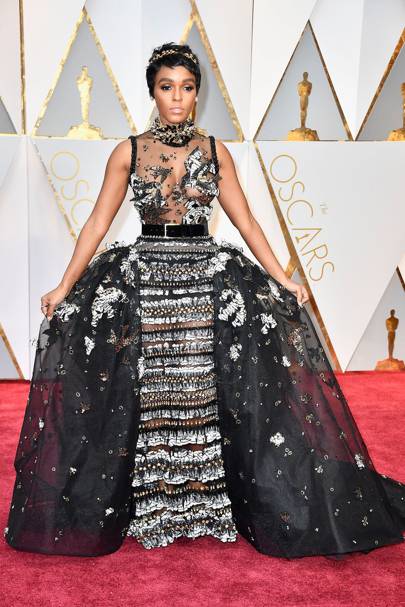 Can anyone say Queen? This Elizabethan inspired Elie Saab gown with delicate beads and modern mesh was quite the showstopper for Janelle Monae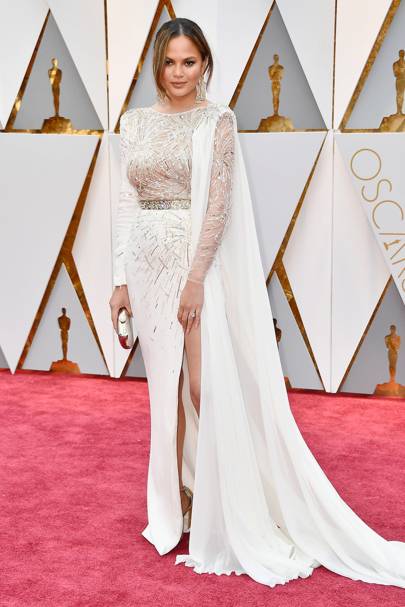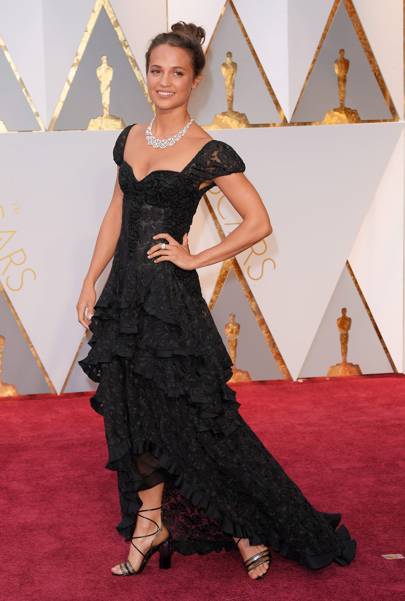 Alicia Vikaner wowed in full lace Louis Vuitton. This is edgy princess chic……feminine ruffles and cap sleeves gone gothic! Love the casual topknot updo too – very good!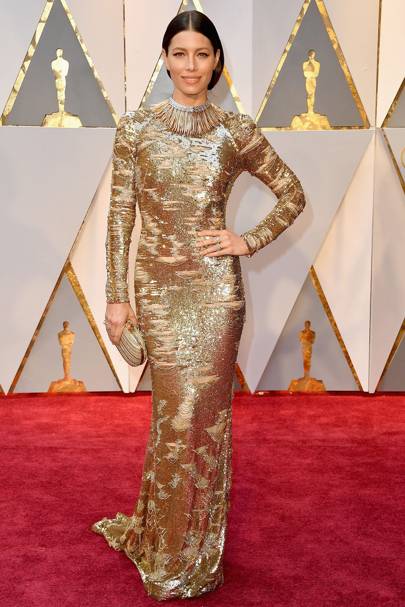 Simply stunning Jessica Beil in Armani Prive and Tiffany & Co. I'm a big fan of the gold gown and this ticked all the boxes – vintage elegance and just love the shape and long sleeves- so unusual on the red carpet. Style Winner!
Stunning looks on the red carpet for the Bafta Awards. From shimmering brilliance to delicate chiffon  – with some moody bloom magic – here are the All Things Stylish fashion favourites……
Emma Stone in Chanel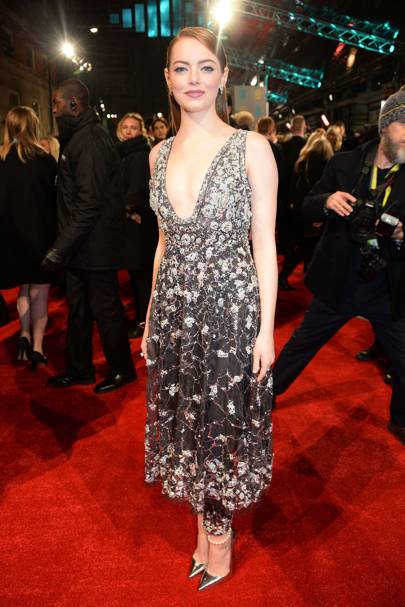 Stunning shimmering chic from the Chanel Spring couture runway. Plunging neckline, under trouser detail and metallic pointed heels complete with pearl anklet –  just LOVE this look!
Naomi Harris in Gucci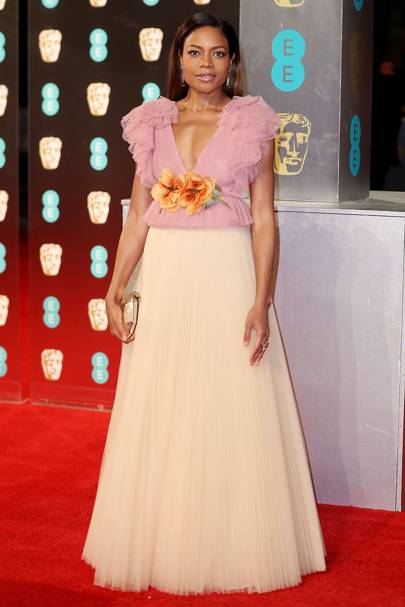 Delicate Spring Gucci from Naomi Harris. I love this soft pastel perfection with added prom queen corsage detail. The touch of orange lifts the look so well. Beautifully ruffled shoulders balance the gown – red carpet winner!
Emily Blunt in Alexander McQueen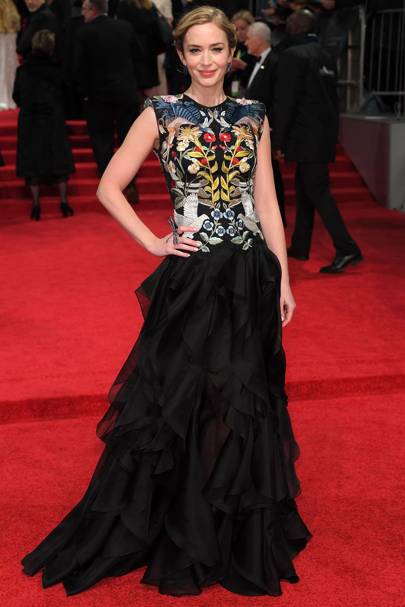 Embroidered brilliance  with fitted regal high cut and glamorous edgy ruffles. Perfect updo shows off the shoulders and the symmetrical Spring like moody blooms in the perfect shape. Gorgeous.
Nicole Kidman in Giorgio Armani Prive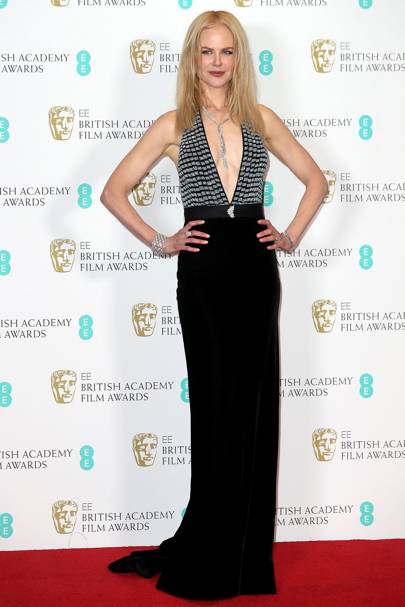 Nicole's long sweeping gown  is set off beautifully with incredible Harry Winston diamonds. The crystal plunging bodice has a warrior feel to it. Love the nude lip and pale blonde hair with centre part – very 90's. Fierce, fearless, fabulous…..
Penelope Cruz in Atelier Versace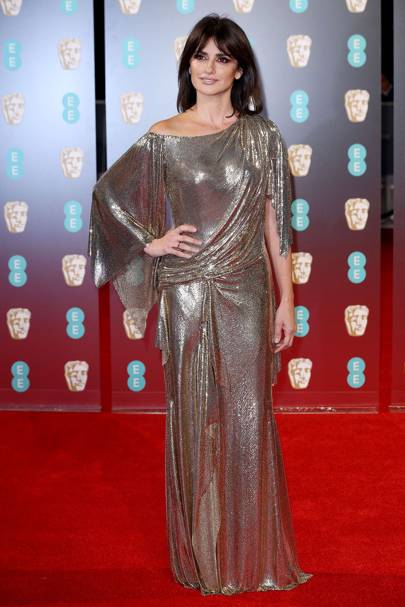 This is stunning 70's chic to the max! Shimmering lamé on the red carpet – Penelope looked every inch the superstar with a gown that caught the light as she moved – beautiful.
Sam and Aaron Taylor Johnson both in Tom Ford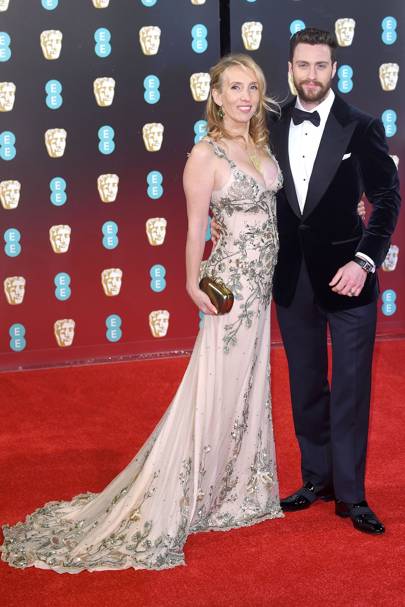 Couple Goals! Loving this combo of super stylish talent in Tom Ford! Sam's delicate Spring inspired floral nude gown is such a gorgeous shape with amazing embellished detail and Aaron looks suave and confident – loving the chic velvet jacket….
Michelle Williams in Louis Vuitton
Love this cool little number. Sparkling art chic, unusual long sleeves and 90's style strappy heels that toughen up the cocktail feel. Keeping the make up minimal with a sleek pixie crop- Michelle stood out – stunning!
Gorgeous! 
You've seen them everywhere and Chrome rocked the runway at New York Fashion Week.
Sexy, classic, cool. Space Age Glam……Go for super shiny 21 day nails with chrome powder at the salon for an incredible long lasting effect or try Morgan Taylor's Could Have Foiled Me at home.
A stunning bright tone – perfect for A/W, the look is a smooth, shimmering mirror like effect, this is oh so cool Chrome Chic.……
 Ready for some seriously sleek chic activewear in your life? The amazing Suki Shufu leatherback leggings are sexy, stylish, functional and fierce!
…………………………………………..
Suki Shifu actually look so cool that they can be worn from home to gym via the juicebar – I would totally rock the Black gloss for meetings! Go dreamy with 'Blue Mountain' clouds, sunshine style with 'Yellow Wave' Bright with 'Candy Pink' or perfect A/W style with on trend Chrome Gloss.
…………………………………………………………
My favourite are the 'Shooting Star' – gorgeous colour and galaxy cool……
See the whole range here – http://sukishufu.com/
…………………………………………………………………
Stunning unique bespoke prints in gorgeous different textures and finishes, Suki Leatherback collection – adored by celebs and fashionistas-  has been featured in Vogue, Elle Magazine, Sunday Times Style Magazine, and Women's Health.
This is rock star active wear for the 21st Century – Go for it!
It's Summer time! Here are the All Things Stylish perfect key pieces and light, bright accessories……
Green Tea Dress – River Island – £40
LOVE this dress – cute crossover with front tie, light crepe mix, floaty Summer chic……
Coccinelle Mel Saffianno Bucket Bag Cedro – £239
Summer sunshine colour pop, in an elegant on trend timeless bucket shape
Blazzzed Jewelled Flat Strappy Sandals – Steve Madden
Was £69 now £34 in the sale – House of Fraser
Gorgeous bejewelled beauties that will add a serious sparkle to any outfit – love!
Honey Punch Festival Tea Dress – £30 ASOS
Adore this super cute festival perfect Summer dress with added cut out appeal. Sweet ditzy floral and floaty cap sleeve – gorgeous colour too. Just add braids and some mules and you are ready to go!
Charleston Orange Leather Tote Bag – £191 House of Fraser
Love this bag – the PERFECT Summer colour. The warm, sunset tones will take you through the sunny days til the leaves start to turn golden. Ralph Lauren make beautiful everyday bags and this tote is a ideal throw everything in that looks super smart.
The Ultimate Summer Wedge
Krystal Cross Strap Espadrille Wedge Sandal Was £85 now £59
These are stunning. Simple, nude tones, wearable wedge heel, leg lengthening, go with everything!
Charm Stacking Bracelets – Cabbage White – Not on the High St £28 each
Gorgeous hippy chic Ibiza feel. Slip these on for laid back pool side style.
Pink Oversized Gingham Scarf – Oliver Bonas £18
Supersize soft pink gingham Summer scarf. Perfect for cooler evening and cosy chic – love!
Gorgeous glamour at the Met Gala 2016……..The stars looked stunning on the fashion world's most important red carpet. From the romantic to the dramatic with a good deal of serious shimmer – these gowns are out of this world……
Here are the All Things Stylish favourite looks…..
Zoe Deutch in Dolce & Gabana
Striking Spring florals, a beautiful flowing shape with cap sleeves – this dress is perfect Spring/Summer and we just love it. Top marks too for the hairpiece – Greek goddess crown and romantic delicate gold earrings…..just stunning.
Taylor Swift in Louis Vuitton
LOVE this sexy edgy gladiatorial glam that Taylor is channelling. The tiered skirt gives it a sweet feel while cut outs keep this modern. The new platinum hair and dark lips scream strength! Fashion victory!
Claire Danes in Zac Posen
Simply perfect. Love Claire Danes in this ice blue Grace Kelly princess gown. Clean lines with swept back hair, perfect 50's shape and no glitz, this is bold, dramatic and so classy.
Poppy Delevingne in Marchesa
Shimmering Goddess! This is an incredible look from one of our favourite designers Marchesa. Poppy is literally adorned with these jewels, giving the dress a futuristic-Eastern-bridal- glam feel.
Karolina Kurkova in Marchesa
Whimsical woodland fairytale ballerina chic….what's not to love! Beautifully shaped with this tulle skirt and delicate nude butterflies – the beauty lies in its intricate simplicity.  No jewels, simple hair and make up lets this Marchesa gown take centre stage – Supermodel perfect.
Katy Perry in Prada
Gothic goddess glamour! Love the evil queen feel of this stunning flowing gown with rich jewel accents and matching make up. All hail Queen Katy!
Magic has never been more on trend. Whether it appeals to our soul, our sense of wonder and enchantment –  or we revel in the techniques and love the wow factor – there's something so brilliant about being taken by surprise…….. something beyond our control in a world so often predictable and formulaic. Some of the tricks are well known, others new and so unbelievable you just have to witness them -to seriously take your breath away but its never been more fashionable to sprinkle your evening with a little spark of magic……..
Party Perfect
Wow your guests with the ultimate in style – a close up magician entertaining your guests while they sip drinks. Whether its a cocktail party, an informal gathering, Wedding, family do or work function – delight the crowd with the magic and mystery……
David Harris – Close Up Magician 
I booked David for a party in London and he was amazing. Seamlessly blending into the crowd he wowed my guests with intricate tricks and unbelievable sights. Everything from classic card tricks to writing that vanished and so many more. With a warm,  witty, interactive style – trick after trick – the gasps were audible! Over drinks and canapes it was the perfect way for groups of people to socialise, get to know each other and have a great time!
A serious talent in the magic world – I discovered him performing a trick to a group of people – and booked him straight away! His recent live show was wonderful – everything from reading your mind to predicting the future and new tricks never seen before….
'Magic has the power to captivate and entertain people…….'
Book him HERE – http://davidharrismagic.co.uk/
What a night! The stars looked amazing on the red carpet last night in Hollywood. Here are the All Things Stylish favourite Oscar looks……
Charlize Theron in Christian Dior
Loved this look – long, sweeping statuesque glamour. Perfect for Charlize. Old school Hollywood with a very modern neckline.

Brie Larson in custom Gucci by Alessandro Michele
Beautiful, original 70's vibe Gucci. Stunning cobalt colour and feminine ruffles with spot on bejewelled waistband and optical illusion detailling – out of this world wow!

Alicia Vikander in Louis Vuitton
Sweet, fresh and unusual. Fairytale femininity. Love the drop earnings and simple hair. An elegant, unique look  – and perfect soft Spring shade!
Jennifer Lawrence in Christian Dior
My dress of the night! Lingerie chic is back in and who knew how amazing well placed lace and serious voluminous ruffles could be? Paired with a knock out perfect platinum bob and seriously gorgeous make up  – this was channelling gothic glam Princess Grace for the 21st Century…..
Saoirse Ronan in Calvin Klein
I've always loved sequins and this colour is amazing. Perfect 90's spaghetti straps with stunning fitted gown – Saoirse looked incredible. 70's luxe meets 90's cool with a chic homage to The Little Mermaid – even the hair is tousled perfection –  love, love this look. 
Margot Robbie in Tom Ford
I'm a big fan of the gold Oscar dress – in recent years they have been some of my most favourite looks – and this year the gorgeous confident Margot Robbie is a big style winner. Sleeves don't often feature on the red carpet and this just shows how fabulous they can be. The silhouette is perfect 70's glam chic – crossover, gold snakeskin, showing off that strong slender bod with all the right curves. Adore!

Cate Blanchett in Armani Prive
Cate exels at quirky feminity – her elegance and poise can carry off the most whismical creations – it just works. This soft pastel perfection is another big hit and such a cool spring shade. Very good.

Naomi Watts in Valentino
Just stunning! My favourite rich hue of the evening. This beautiful shimmering Valentino gown is just so original. Rich, elegant, after hours mermaid chic. Love that hair – stunning old Hollywood smooth wave and just the perfect necklace. Amazing!
New Year – New Skin Routine!
Banish the Winter blues with an amazing skin system that actually feeds and nourishes your skin. We all love good Superfoods and this gorgeous nourishing stemcell super-food skincare range feels wonderful – and really works!
Try this gorgeous kit for on the go radiance……
Stemcell super-food cleanser – (50m)  A nourishing dual-action cleansing cream with advanced stem cell technology. The potent super-food complex of anti-oxidants, Coconut Oil, Rose Hip Oil, Rose Wax and Cocoa Butter cleanses gently leaving your skin glowing . A wash off cleanser  – massage into the skin with the cotton muslin cloth and the gentle exfoliation enables younger-looking skin to be revealed – perfect!
Stemcell super-food facial oil (10ml) – Containing a concentrated blend of super-food actives this facial oil can be massaged onto the skin to provide deep hydration and nourishment without leaving skin feeling greasy. Feels wonderful on and really works.
Stemcell super-food day cream SPF15 (20ml) – An illuminating moisturiser that hydrates dry skin and leaves a subtle glow. Gorgeous!
Stemcell glam balm multi (10m) – With 100 different uses, this is a multi functional balm that restores moisture to the skin. Amazing!
At just £30 its a bargain for seriously good skin. Selfridges.
Find the perfect present and put these beauties on your wishlist – it's the All Things Stylish gorgeous gift ideas………
Iconic notebooks made for stylish girls – £45
Smythson – http://www.smythson.com
Chanel Nail Colour – Pirate – £26
Classic Red Nails – the ultimate in glamour. A simply beautiful red for out of this world nails this Christmas.
Jo Malone Pomegranate Noir Candle – £42
I just love Jo Malone. Gorgeous scents,  super stylish and always beautifully packaged. This candle is one of my favourites. The rich ripe pomegranate, raspberry and plum mixed with pink pepper, Casablanca lily and spicy woods.
Perfect for the festive season.
Ibiza 2015 /Ibiza 2016
£9.99 – CD or download – relive the Summer memories and get ready for next year!

Links of London Stardust Bead Rose Gold Bracelet £110
Beautiful, delicate and elegant. Wear on New Years Eve and all year……
Cocktail Time! 
The fundamentals of mixology at your fingertips!
£5.99 – http://www.amazon.co.uk/
Mulberry Keyring £70
Always have stylish keys at your fingertips! Simply stunning heart keyring in solid gold metal with the iconic Mulberry tree logo. £70
http://www.mulberry.com/
Benefit Make Up Kit £29.50
'Life of the Party' Gift Set, a collection of six make-up essentials for a flawless complexion, luscious lips and enhanced eyes.
Petite pieces – handbag ready for primed perfection on the go!
Tiffany Jewellery Case – £100
Looks amazing on your dressing table and perfect for travelling. Gorgeous iconic colour. Textured leather with palladium-plated solid brass hardware. Ultrasuede lining in natural with a zip closure.  3″W x 3″D x 1.75″H
Liz Earle Hot Polish Cleanser – The best daily cleanser. Simple to use and very effective. Apply the cream over dry skin, including eyes before soaking the hot muslin in water and applying to face, and wiping off. Leaves your skin instantly radiant – gorgeous! £13.25 plus muslin – John Lewis.
 Citizen Watch – Stunning high tech cool. This beautiful Citizen Eco-Drive silhouette crystal watch converts light into energy so you'll never need a new battery again. It looks great with everything and the face is the just the size for everyday elegance.  £169
Shimmer Tea Light  – Swarovski –  £34
Stunning tealight holder embellished with hundreds of Swarovski crystals
4.2 x 6.7 x 6.7cm
Gorgeous!!